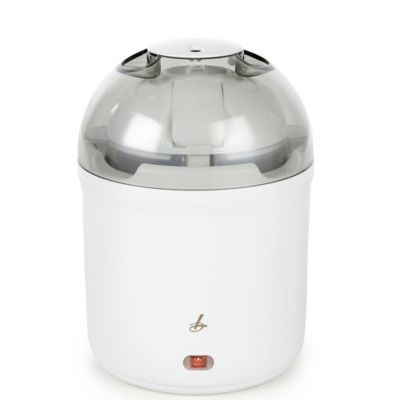 I am told that I am a very difficult person to buy presents for but I suspect that could be said of most ladies "of a certain age". We just don't want more "stuff", we get picky about toiletries, we don't want calorific treats - the list of what we don't want goes on and on.
All this means that if I express the smallest interest in something there is a real danger that someone will remember and I receive it for my birthday or Christmas. I happened to mention yoghurt makers last year and this came in my stocking. It's an electric model from Lakeland and it makes lovely yoghurt, about 500g at a time. I've had a lovely time buying various live yoghurts and using them as cultures. I've also bought Easiyo and some dried cultures.
I like the dried cultures best. I make a batch using UHT milk and skim milk powder, eat it, and use the last little bit as a culture for the next lot. Some of the yoghurt gets turned into cheese and if one ignores the initial cost of the machine, it's very economical.
But there's the rub. I can ignore the cost of the machine as it was a gift. I make a batch most weeks and I reckon it's about 20p per 500g cheaper than an equivalent natural yoghurt so over a year I will have saved £10. I'd have to make and eat steadily at that rate for two years to break even and that ignores the cost of electricity.
I like my yoghurt maker. I find it convenient and I enjoy the yoghurt and the cheese that I make. Will I replace it when it breaks down? I doubt it.